Kal Hamara Hai – 1959
"Kal Hamara Hai" – starring Madhubala and Bharat Bhushan was one of my dad's most ambitious projects. It was an intense social drama with a strong message regarding morals & ethics – reinforcing our duties as good citizens in improving the socio-economic conditions of our country.
Though "Kal Hamara Hai" did not do well at the box-office, it is on the top of my list as one of my most favourite movies produced by my father. In my opinion, it was made before its time. It was a very thought-provoking and socially conscious movie.  The circumstances depicted in the movie – poverty, corruption, social injustice & terrorism are still applicable in today's society and in fact, on an even much larger global scale.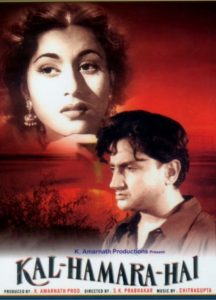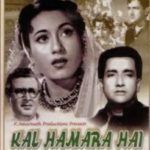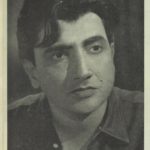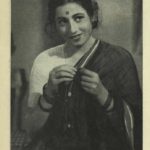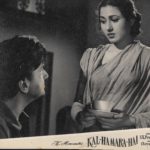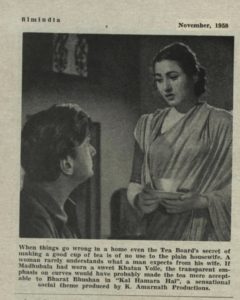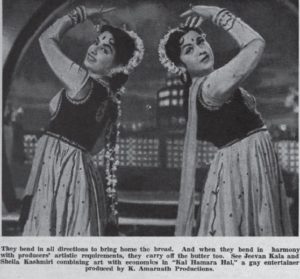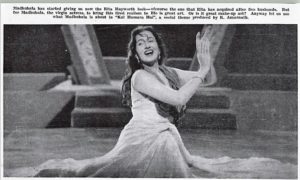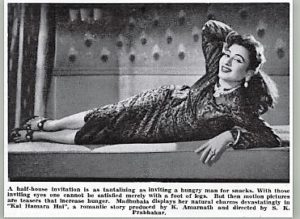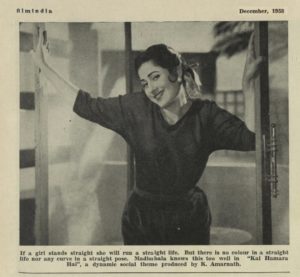 Madhubala played a double role in "Kal Hamara Hai".
One of a simple, devoted daughter, Madhu, and the other, as her fun-loving beautiful sister, Bela.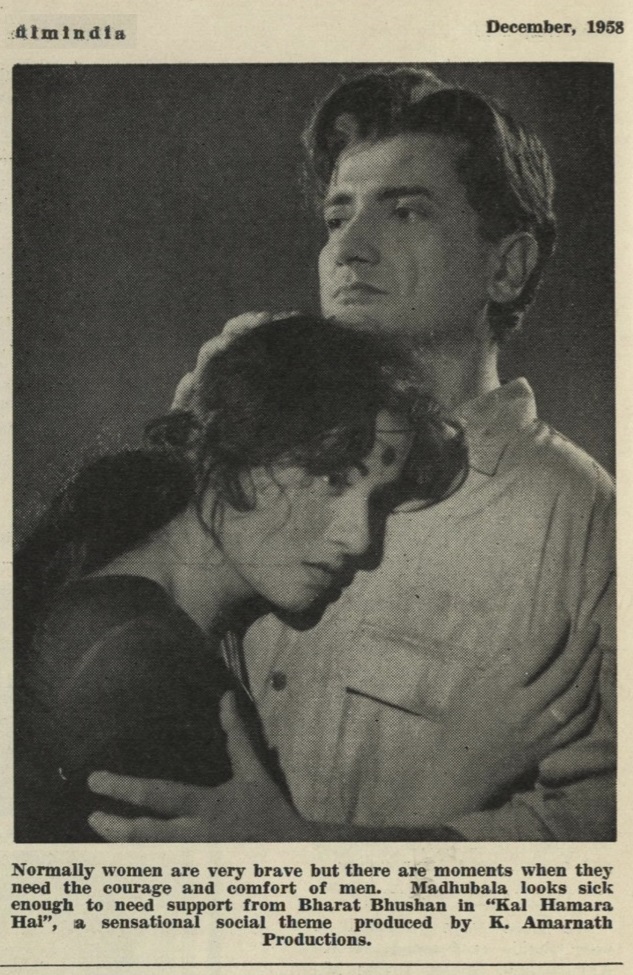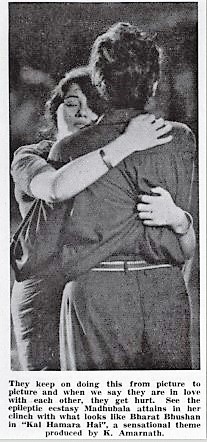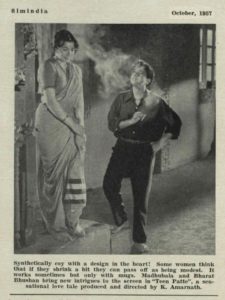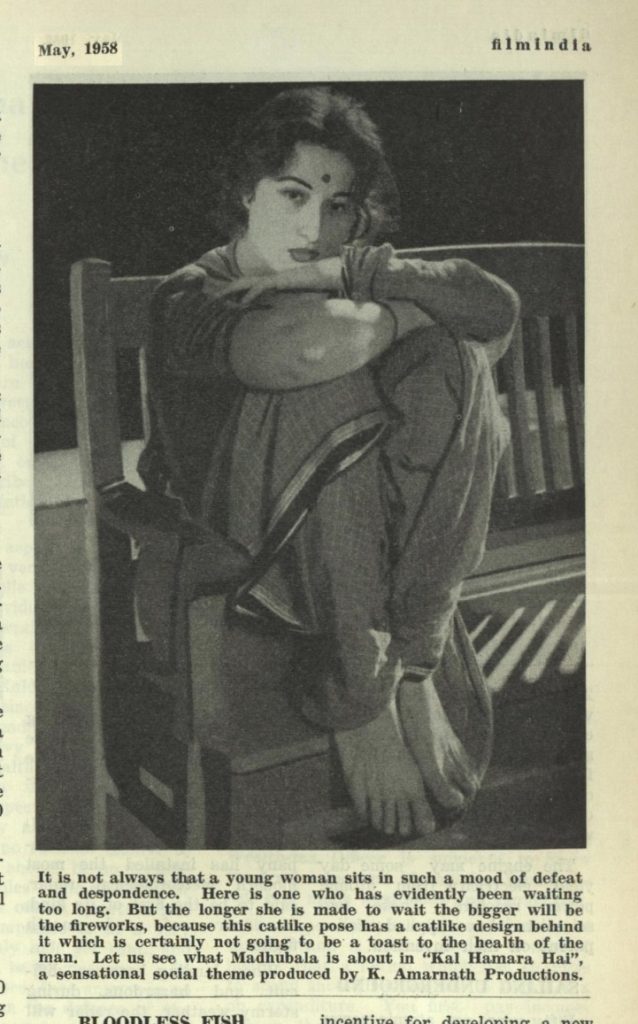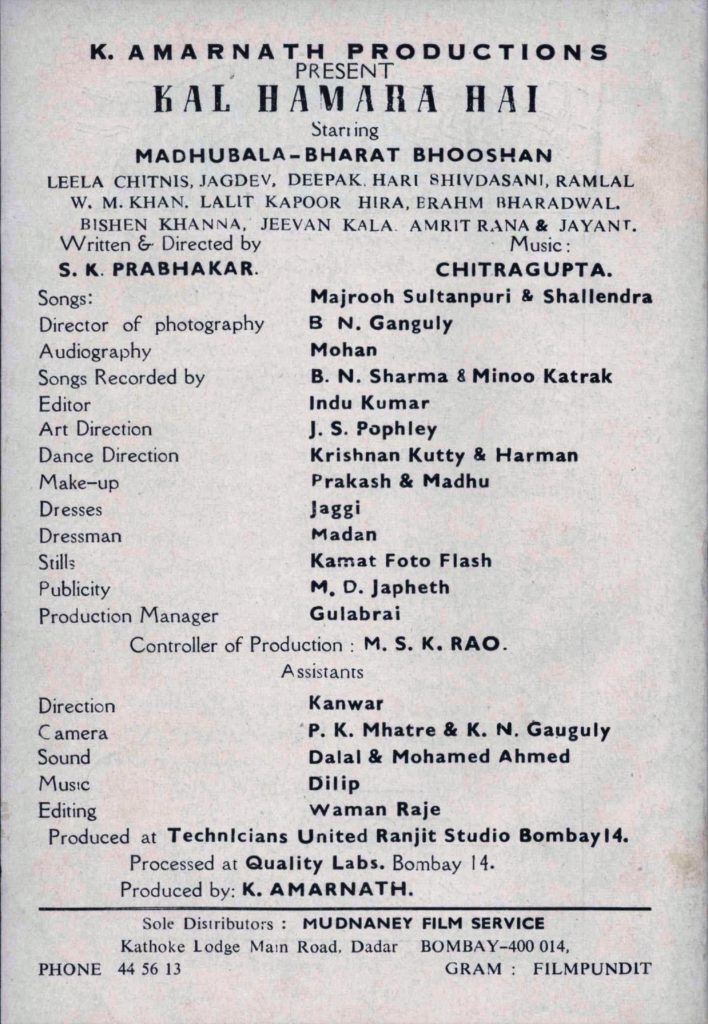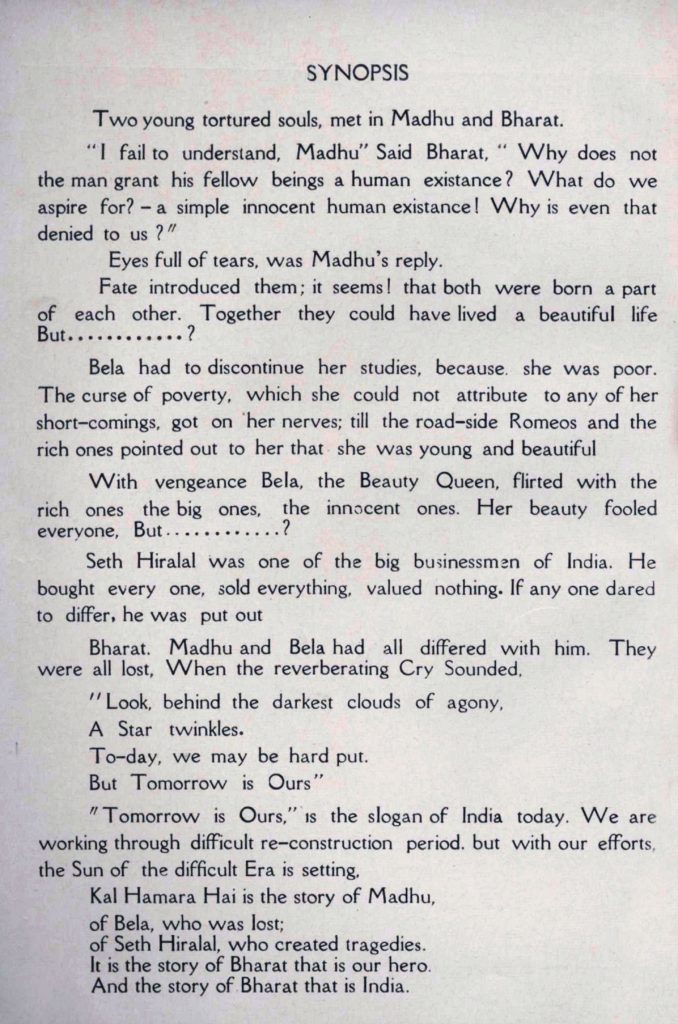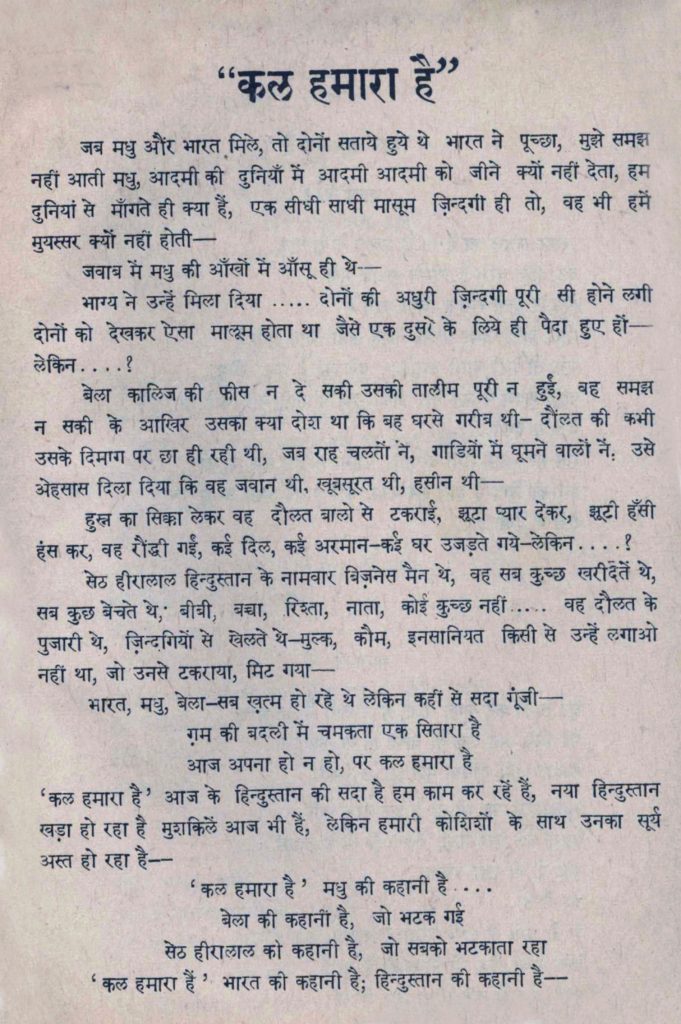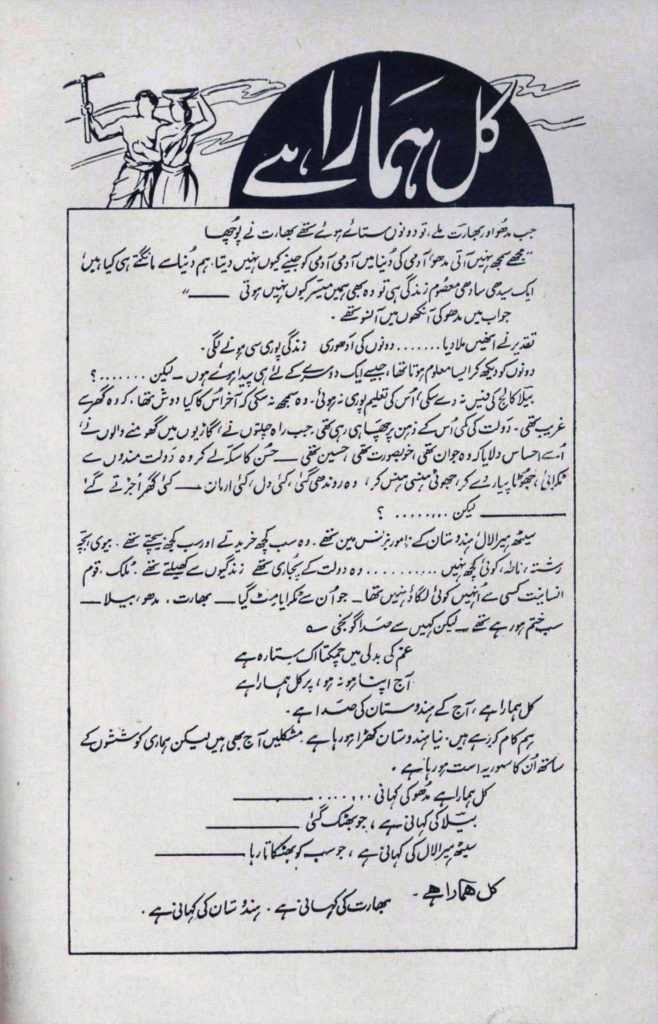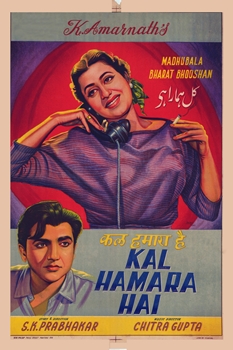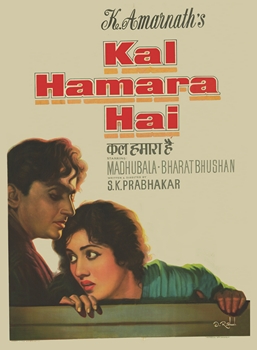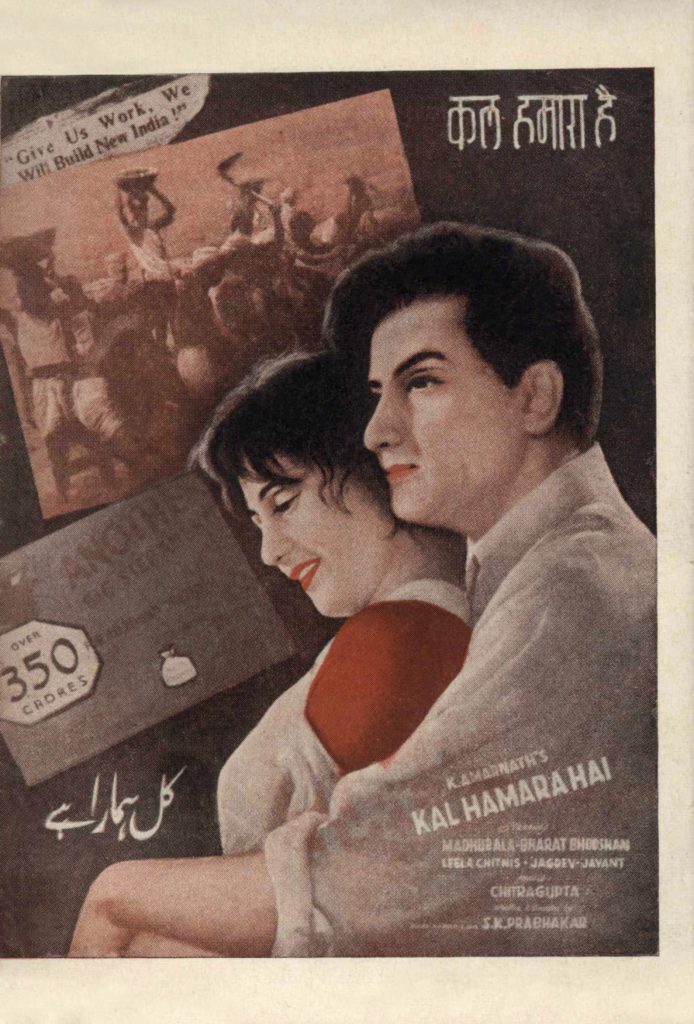 SONGS:

---
K.Amarnath siblings: Satish-Mohan-Manju-Madhu in a scene from "Kal Hamara Hai"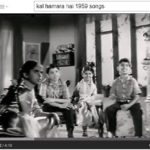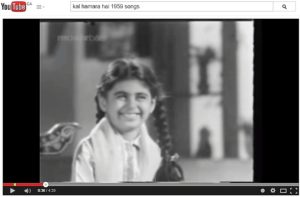 ---
Madhubala was the leading lady in two of K.Amarnath's movies – Beqasoor (1950) and Kal Hamara Hai (1959)
Below: Madhubala in a scene from Kal Hamara Hai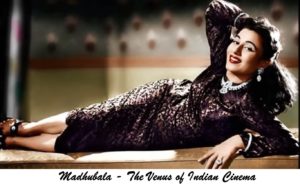 Tribute to Madhubala – YouTube Video

Most of the movies produced by my dad, K.Amarnath were also directed by him, excepting for the three below:


Kal Hamara Hai – 1959

– directed by S.K.Prabhakar


Bada Admi – 1961

– directed by his brother-in-law – Kaushal Raj Batra (web-post link )
And his last, unreleased movie,

Dadon Ka Dada

– directed by his son – Satish Amarnath.
Remembering S.K.Prabhakar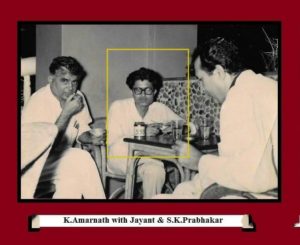 S.K.Prabhakar was a thorough gentleman, a visionary and a patriot. He used to come over to our place nearly every evening with our dad, K.Amarnath. They used to spend hours discussing stories and scripts – he was excellent in the Urdu language. He worked with my dad in nearly all his movies – 4 of which have his name in the credits –

Bada Bhai (1957)

–

Kal Hamara Hai (1959) 

–

Ishaara (1964)

–

Woh Din Yaad Karo (1971)

– released posthumously.
He was married to Madhubala's sister, Chanchal, and in fact, passed away at a young age of the same cardiac ailment as Madhubala – ventricular septal defect (hole in the heart).
He desperately wanted his son to attend the same school as we did and he wanted it done as soon as possible since he said he didn't have much time to live.
He was an excellent story writer and most of his stories were based on improving the situation in India at that time.
Manoj Kumar was very much influenced by S.K.Prabhakar's views and in fact, he has mentioned that "Bharat" – the character in Upkaar was inspired by the "Bharat", the hero in "Kal Hamara Hai".
On March 18, 2008, I had the opportunity to attend "Madhubala's Commemorative Postage Stamp Inauguration Ceremony" in Mumbai. Manoj Kumar who was the chief guest mentioned S.K. Prabhakar in his speech when referring to his coming to Ranjit Studios to watch Madhubala during the shooting of "Kal Hamara Hai".
S.K.Prabhakar was very close to our family and was like an uncle to us.
He was also an excellent Astrologer.
May his Soul rest in Peace
Thank you Gopal Pillai ji – administrator of Kalyan Music Club, for remembering the multi-faceted artist –  Story/ Screenplay/ Dialogue Writer, Editor & Director, S.K.Prabhakar on his birth anniversary, September 25, 2019.

REFERENCES
PUBLISHED: MAY 2013
UPDATED: 2018 / 2019



"