Chhed Chhad – 1943
"Chhed Chhad"

aka

"Sweet Lie",

a Social Drama, starring

Sitara

&

Nazir

was produced by "Hind Pictures".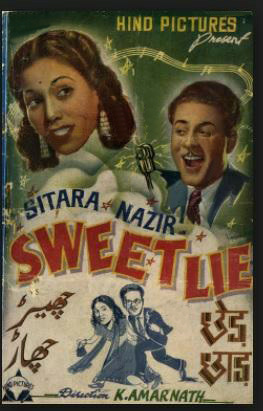 Pee Kahaan. . . Gaaye Jaa Baawre (Chhed Chhaad) 1943
Remembering K Amarnath on the centenary of his birth today (1st December/2014).
A warm salute to the memory of this stalwart producer-director-showman of the Hindi film industry.
The memories – as always – are for keeping alive.

Click on the link below to read an amazing write-up on K.Amarnath by Sudhir Kapur on "Atul's Song A Day"
https://atulsongaday.me/2014/12/01/pee-kahaan-pee-kahaan-gaaye-jaa-baawre//
SONGS:

REFERENCES
PUBLISHED: 2018
UPDATED:



"