1st December 2021
"Remembering our dad, K.Amarnath, today on his 107th Birth Anniversary"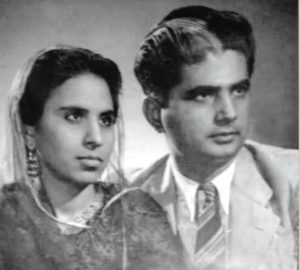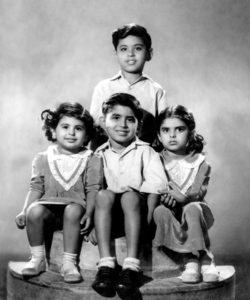 From 1936 to 1971, my father, K.Amarnath produced and directed over 35 movies. In the late 40's and 50's when his movies were doing extremely well at the box office, he came to be known as a "hit-maker" in the Indian Film Industry.
He was also well known for giving opportunities to many young deserving aspirants who later on themselves became famous in the industry.
One of most important features and highlight of most of my dad's movies was the beautiful picturization of some amazing unforgettable songs, around 8 to 10 in every movie, which were penned by various wonderful lyricists and set to pleasing tunes by some of the greatest music directors of the Golden Era of the Indian film industry.
My dad had a keen ear for melodious music and he was fully involved with the lyricists, music directors & singers in the composition & rendition of his movie songs.
After the final recording of every song, a sense of pride and satisfaction with the perfect outcome would linger in him. He could be heard humming the tune at home till the next gem could be composed and recorded. It was very apparent that he loved all the songs from his movies.
I was once asked, a couple of years back, were there any songs, other than from his own movies, that my father liked. Well, I am sure there must have been quite a few, though I can not specifically say which ones. But I do remember on one occasion, where I know for sure that he definitely loved this particular song which he heard on the car radio.
Every Saturday, we had an established family tradition of going downtown – first for dinner and then to see a late-night movie. We had a blue Dodge car and a driver named Mukund. Both my brothers always sat in the front and we two sisters at the back next to our parents. Every week we would switch places so that we could get a window seat to look outside at the bright city lights and enjoy the cool breeze. Our driver would put on the music, very low. On one such outing, my father faintly heard the music and seemed to instantly love it. He asked Mukund to "increase the volume" – something he had never done before. He listened and hummed along with it and when it ended he said "Wah Wah" !! It was none other than the song "Piya Aiso Jiya Mein" from Guru Dutt's "Sahib Bibi Aur Ghulam" – 1962. Especially the line where Geeta Dutt sings – "Is dar se kisiki nazar na lage, jhat nainon me kajra laga bheti" – where in fact, my dad instinctively knew what the last few words of the line were going to be!!
From my memory bank – This was 59 years ago.
Whenever I hear this song, I get transported to 1962 Bombay, sitting in the car with my parents and siblings going downtown to see a movie.
YouTube link to the song "Piya Aiso Jiya Mein" from Guru Dutt's "Sahib Bibi Aur Ghulam" – 1962.

PUBLISHED: 1st DEC 2021



"