14th May 2023
"Remembering our dad,
K. Amarnath,
On his 40th Death Anniversary"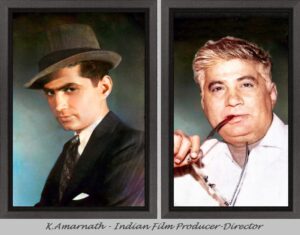 Remembering my father, mother and brother Satish today.
"Always on our Minds – Forever in our Hearts"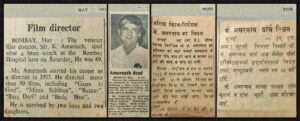 From my sister, Madhu Sharma
For my dad on his 40th Death Anniversary
Decades have passed since my dad's arrival on the cinema arena, but as time passes, new understandings and interpretations evolve and each of these allow us to perceive him and his works in a new light.
Today, his family, loved ones and well wishers are rediscovering him as a symbolic representative of the cultural, moral and ethical conditions of those times……conditions which are still relevant today.
His name and accomplishments are still remembered as they have stood the test of time. Memory is selective but relevance is a precondition to remembering. Though his work is old, it has not lost its relevance.
His prolific work will always be remembered because of the nature of his cinematic achievements and the medium in which they are preserved.
From my brother, Manmohan Amarnath
Remembering my father today.
About 65 years ago, when I was a young child, I remember accompanying my dad in our light blue Dodge car to Ranjit Studios where my dad had his office and where most of the movies produced under his banner were shot.
As we entered through the massive Ranjit Studio gates, I remember seeing the compound full of actors, junior artists and technicians – some of them even playing cricket. The noise all around reminded me of our 11:00 o'clock break at school !!
Our driver parked the car and held the door open as my father stepped out in his brown & white Brogue Oxford shoes, white pants and Bosky silk shirt with a tin of State Express 555 in his hand.
What followed next is something I shall never forget.
Suddenly the noise subsided and there was pin-drop silence all around – not a whisper anywhere, all you could hear was the chirping of the birds. A drastic change in the atmosphere !!
That was the respect my dad commanded and received from everyone around him.
That was K.Amarnath !!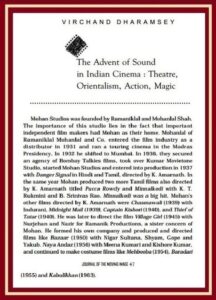 My father, K.Amarnath was one of the pioneers of the Indian Film Industry.
In his lifetime, he produced/directed over 35 movies, four of which are in the top-grossing movies list.
His movies were very clean and meant for family entertainment – he was his own censor board.
Though most of his movies were basically made for mass entertainment, he always subtly conveyed some meaningful life-lesson through them without being too preachy or didactic.
My father was a very strict disciplinarian – he was a no-nonsense person.
He commanded and got respect from everybody.
But he also had a soft side, and he was very fond of children. There would be an aura of happiness and peace around him when he played with his youngest nephews and nieces. He was overjoyed when he got a chance to meet his first grandson and granddaughter when my sister came down to Bombay to visit him.
In all, my father had one granddaughter and five grandsons.
Wish the younger 4 grandsons could have met their grandfather too.
I created this website tribute 10 years ago to keep his memory alive and for the future generations to learn more about him.
Numerous family members, friends and acquaintances helped me as I added 2 posts every year in his memory. I thank them once again and have devoted a whole page on this website acknowledging their contributions.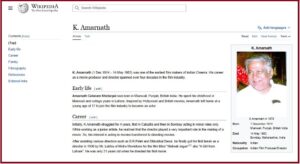 In 2014, I decided to submit an article on my dad to be published in Wikipedia. I sent a draft in mid November 2014, hoping that it would get published by December 1st 2014 on my father's 100th Birth Anniversary. I was a bit disappointed when I got this reply from Wikipedia: Review waiting.
This may take several weeks, to over a month….. Please be patient. There are 2552 submissions waiting for review – 17th November 2014.
The next day after sending the draft and getting the above automatic response, I just happened to search his name in Wikipedia and I was overjoyed to see that the draft had already been published – with this note:
Amarnath is clearly a

Notable director,

and much has been written about him,….

moved page Draft:

K. Amarnath – Indian Movie Producer/Director to K. Amarnath:

Publishing

accepted Articles for creation . 17th November 2014
Yes, my father was a Notable director and I have tried to put all the information available on him in this website tribute. There is still a lot more research left to be done.
Even after 40 years, his movies and their melodious songs have an appeal are enjoyed by fans all over the world.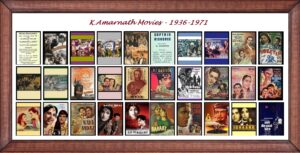 PUBLISHED: 14th MAY 2023



"