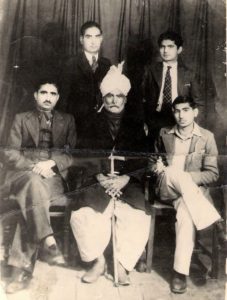 A memorable picture of my dad with his father & brothers (circa 1940)
Sent by my cousin, Mohini Kapoor from Chandigarh (July 1/2019)
Standing – left: brother HansRaj – right: K.Amarnath
Sitting – from left: brother HarbansLal – father GelaRam – brother Prabhu Dayal

14th May 2019
Remembering Amar Uncle
by
K.Amarnath's niece
Mohini Kapoor

Daughter of his older brother, HansRaj Khetarpal
Below is an excerpt from one of my recent conversations with Mohini Didi:
Went through the website "Tribute to K.Amarnath", the other day –  it was such a

warm and emotional journey

down memory lane. After going through the website, a big chunk of my childhood that had been lying dormant for a long time suddenly came alive.
I remember Dadi (my dad's mom) recounting how

Amarnath had left Lahore

without informing anyone at home.
Everyone was in tears and anxious not knowing what to do.


He wrote from Calcutta that no one should worry – he had a dream career to pursue.


His words were "kuchh ban ké awanga" !!
One day, several years later, he appeared as miraculously as he had disappeared so mysteriously !!
Dadi was thrilled, so was everybody else, seeing him after nearly nine years.
When he came back, he was not married and asked dadi (his mom) to find a suitable match.
Dadi was in a frantic haste to find a girl.
He married Sumitra Batra, the girl chosen by his mom & 2 sisters-in-law – Sheela & Prem (Mohini K.'s mother).
After that, during his visits to Lahore, he would often buy authentic Punjabi silver jewellery and costumes for his movies.
I remember this one instance vividly – as a child I was excited to wear those heavy jhumkas (earrings which he had purchased for his movies) and

he laughed and said in typical Mianwali dialect,

  "kaan phatt jan gé bhaidi chhér".
Those were his exact words.
I think the qawali, "Zara Sun Lo Hum Apné Pyaar Kaa Afsaana Kahaté Hain" from "Bazaar" (1949), needs a mention here as it was a great hit. I was too young at that time, but I distinctly remember my mom praising it as we came back home after seeing the movie in Delhi. It used to be heard on the Radio very frequently!! 

(Song posted below)
While reading  Salim Khan's tribute to uncle, I paused to look at the picture where uncle is instructing Salim K. during the shoot of a movie. Then while reading the article, I went back to see the picture again – that's how I remember uncle –

I remember that posture right from Lahore days.
Mohini (Khetarpal) Kapoor
Senior Lecturer


Government College for Girls


Chandigarh, India
I would like to thank my cousin, Mohini Di for sharing the above interesting stories & recollections of my dad.
And then there was the 1947 India-Pakistan Partition when everything fell apart.
Leaving everything behind, Mohini di's father and family moved to Jullunder, Punjab; whereas my dad, K.Amarnath, who was already well-settled in Bombay (Mumbai) had the rest of the family flown down from Lahore (Pakistan) to Bombay (India).
"Everything Happens for a Reason" –  "It is Written in the Stars".
Clichés and philosophical sayings like these can only be reflected upon, understood and accepted after a person emerges through a difficult time.
Yes, it must have been difficult for my father's parents when my dad, at a young age of 17, left home without informing them. But had he told them his future plans, they wouldn't have allowed him to leave. His dreams and passion would have never been fulfilled.
So, by God's grace, in 1947, and also in the years to follow, my dad was in a financially stable position to help & support his parents, two of his brothers, (the eldest and the youngest) – HarBans Lal & Prabhu Dayal –  and their families.  The Khetarpal family not only lived with us, but my dad also got both his brothers involved in the movie industry – since, being displaced after the Partition, they had to start life all over again.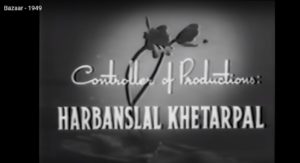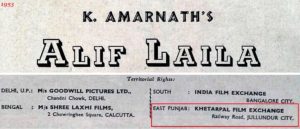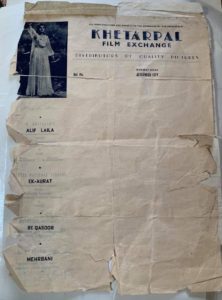 "Bazaar" (1949)
Zara Sun Lo Hum Apné Pyaar Kaa Afsaana Kahaté Hain
Map of British India – 1914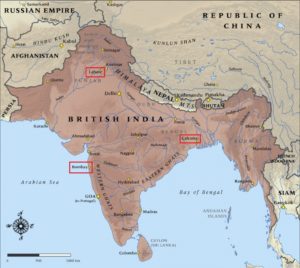 PUBLISHED: 14thMAY 2019
UPDATED: 1st JULY 2019 – Added a photograph of my dad with his father & brothers Courtesy Mohini Khetarpal – daughter of  K.Amarnath's brother HansRaj
UPDATED: 8th APRIL 2021 – Letterhead – Khetarpal Film Exchange – Courtesy Deepak Khetarpal – son of K.Amarnath's brother PrabhuDayal



"